Contact Info
JB Webb, Vocalist
Phone: (209) 534-7557
Website:
www.jbwebb.net
Services
Ceremony Singer
Cocktails Singer
Dinner Singer
Hours of Operation
About Us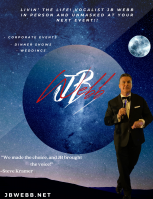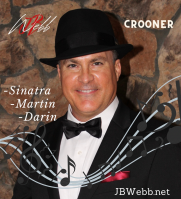 🎵🎉 A Timeless Journey Through Music! 🎉🎵
✨ Calling all lovers of the golden era and soulful melodies! ✨ As a wedding singer specializing in the timeless classics of Frank Sinatra, Dean Martin, Bobby Darin, Engelbert Humperdinck, Elvis, and Chris Stapleton, I bring an unforgettable touch of nostalgia to your special day. 🎤🌟
🎩 From the moment you walk down the aisle to the energetic beats that keep your guests dancing all night long, I will transport you back to the enchanting era of Sinatra's smooth crooning, Dean Martin's charisma, Bobby Darin's swing, Engelbert Humperdinck's romantic ballads, Elvis' rock 'n' roll charm, and Chris Stapleton's soul-stirring country hits. 🎶💍
✨✨ What can you expect from my performances? ✨✨
🌟 Authenticity: With a deep love and respect for the classics, I meticulously study and embody the essence of each legendary artist, ensuring that every note I sing captures their unique style and essence.
🌟 Timeless Hits: From Sinatra's "Fly Me to the Moon" to Elvis' "Can't Help Falling in Love," and from Dean Martin's "That's Amore" to Chris Stapleton's "Tennessee Whiskey," I curate a setlist that honors the greatest hits of these iconic artists, taking you and your guests on an extraordinary musical journey.
🌟 Passionate Performances: I pour my heart and soul into every song, delivering captivating performances that evoke emotions and create an intimate connection with the audience. Get ready to be moved, inspired, and transported through the power of music!
🌟 Customization: Your wedding day is all about you, and I work closely with you to understand your musical preferences and weave the perfect playlist that reflects your love story. Your favorite Sinatra or Dean Martin song as your first dance? Consider it done!
🌟 Unforgettable Memories: I believe in creating magical moments that will be cherished forever. Whether it's a heartfelt rendition of Engelbert Humperdinck's "Spanish Eyes" or an energetic Elvis medley that gets everyone on their feet, I am here to make your wedding an unforgettable experience for you and your guests.
💫✨ Let's take a step back in time and create a wedding day that celebrates the classics! Contact me today to discuss your dream wedding and secure your date. Together, we will weave the timeless melodies of Sinatra, Martin, Darin, Humperdinck, Elvis, and Stapleton into the soundtrack of your love story. ❤️💍
📞 Call: 209-534-7557 📧 Email: jb@jbwebb.net 🌐 Visit my website: www.JBWebb.net